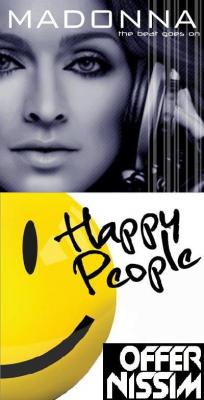 Me sigo preguntando... ¿por que carajos Offer no incluyo este mix en su new cd?
Efectivamente,en el "Happy People" Offer no incluyo el tan esperadoThe Beat Goes On de la señorita Madonna, la cual supongo se nego rotundamente a que Queen Nissim sacara el remix puesto que su cd "Hard Candy" sale a la venta el 29.04.08 y actualmente promociona el primer single "4 minutes" del cual ya se desprendieron "hartos" remixes... el que vale la pena es de Peter Rauhofer!
Bueno aqui los dejo con el remix de Offer con buen HQ a 256 kbps con duracion de 8:35 min por cierto, el intro que utiliza es de un track noventero del cual no ubico el nombre (hay si me pueden echar la mano se los agradecere infinitamente)
The Beat Goes On 08´ [Offer Nissim Remix]
Aqui les dejo otros 2 mixes mas, obviamente estos son de estudio y por ahi circulo este track como el oficial de Offer, pero nada que ver por que es un "S T Y L E" osease similar al beat que imprime en cada uno de sus tracks. Escuchenlo...

The Beat Goes On [Blaster Project Offer Style Mix Allan Pércio Edit Mix]
Y no podia faltar el del buen Allan Natal (el cual hizo el primer remix
al track Happy People) Muy muy disfrutable, cheken dato...

The Beat Goes On 08' [Allan Natal Remix]
Estoy casi convencido que despues del lanzamiento del Cd de Madonna, Offer lanzara el track y lo disfrutaremos a 1000 y pues pa´rematar los dejo con el video patrocinado por you tube... HE DICHO!!!
THE BEAT GOES ON 08' [OFFER NISSIM REMIX] 03.04.08