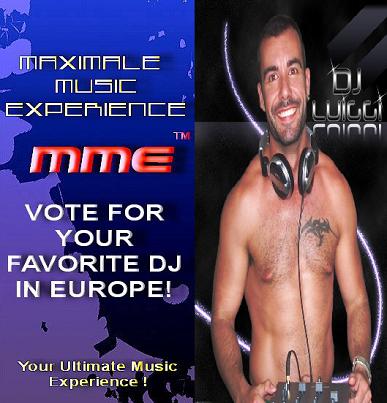 MAXIMALE MUSIC EXPERIENCE AWARDS 2010/2011 VOTE FOR YOUR FAVORITE DJ'S OF THE YEAR...
MEMBERS, FANS or FRIEND CONDITIONS FOR VOTING.

The JURY IT'S YOU (Members, Fans or Friend must be registered to vote).The voting system will be selectively opened by Monday, November 01, 2010 and will be closed Wednesday, December 29, 2010 by midnight.

To be able to record your votes you must necessarily be FRIEND with MAXIMAL MUSIC EXPERIENCE: http://www.facebook.com/DJSCONFERENCEBARCELONA2010 BARCELONA MUSIC EXPERIENCE fan page: http://www.facebook.com/pages/Barcelona-Music-Experience/155904791104609

Only one vote by member, by ARTIST and by category is authorized. The double votes will not be record. Good luck to everybody. ALEXIS AKKIS PROMOTER for MAXIMALE MUSIC EXPERIENCE BARCELONA MUSIC EXPERIENCE

Ademas esta involucrado tambien en este proyecto a corto plazo y él mismo nos informa:

Buenas amigos. Quiero comunicaros que he sido pre-seleccionado como Dj aspirante a la residencia del Crucero Atlantis Events de Febrero (06-13 FEB 2011)
Necesito vuestros comentarios de apoyo para pasar la selección final definitiva y poder realizar este proyecto tan interesante!
Podeis dar vuestra opinion y voto en el muro de: Atlantis Events , ATLANTIS EVENTS GRUPO DE LOS ESPAÑOLES y en este mismo.
Mucha Suerte mi estimado Luiggi!! Recibe fortissimo abrazo y toda la vibra del mundo y señores.. que esperan para votar?? Apoyen a este 'tio' pues, He Dicho.