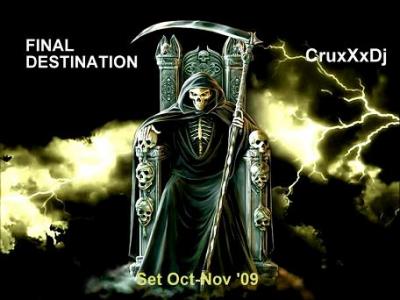 Mi estimado CruxXx nos regala este delicioso set para disfrutarlo enorme !!
Final Destinacion
Tracklist:
1.AROUND (TSAHI AND EIKO PART 3 EDIT) -YINON YAHEL
2.COSTA AZUL (RAAP A. LIVE RMX)-RAFAEL REWIND
3.THE NIGHT (J. VERNER DREAMS DRUMZ REMIX)-KERNEL GROOVE
4.TURN IT OUT (NICK CORLINE REMIX)-ALTAR FEAT. JEANIE TRACY
5.BASS KICK IN MIAMI (ORIGINAL MIX)-CHUCKIE FEAT. LMFAO
6.I'M THAT CHICK (OFFER NISSIM REMIX-DEE TEE'Z STRINGS INTRO)-MARIAH VS MAYA
7.QUEEN OF THE NIGHT (ORIGINAL MIX)-LUIS ERRE
8.DIVINE SKY (ORIGINAL MIX)-LIDOR M.
9.CRYING IN THE RAIN (NIELS VAN GOGH & DAVE RAMONE REMIX)-GURU JOSH PROJECT
10.EXPRESS YOURSELF (ORIGINAL MIX)-DANNY VERDE & PHIL ROMANO FEAT. ANNA BUCKLE
11.REVOLUTION OF LOVE (MAXPOP EXTENDED MIX)-FILIPE GUERRA FEAT. LORENA SIMPSON
12.3 (RAFAEL LELIS CLUB MIX)-BRITNEY SPEARS
13.NEVER GONNA CHANGE (RAFAEL REWIND MIX)-BEATTLEFUSION
14.DRUGGED TRIBE ORCHESTRA (ORBITADJ CIRCUIT DRUGGED MIX)-DA BASSTARD
15.MUERO POR TI (ORIGINAL PASSION MIX)-TONY DARK EYES & OSCAR VELAZQUEZ FEAT. CHELA
16.I FEEL SORT OF SEXY (ORIGINAL MIX)-JZUART FEAT. VBUTTERFLY
17.HORNY GROOVES (ORIGINAL MIX)-CLUBZOUND
18.VIVA EL CIRCUITO (LUIS ERRE VIVA MEXICO PRIVATE MIX)-WILLIAM UMANA FEAT. SINOA
19.SEXY MUSIC (JOHN W. AND ROGER VAZ AMP; HENRIQ MORAES MIX)-ORBITADJ FEAT. ARANXA
20.DON'T MISS (DUB MIX)-ADRIAN DALERA FEAT. AMANNDA
21.LONELINESS (ORIGINAL MIX)-ALLAN NATAL FEAT. GEORGIA BROWN
22.RELEASE ME (FILIPE GUERRA REMIX)-AGNES
23.EMPORIUM (ORIGINAL MIX)-SIDNEY SAMSON FEAT. TONY CHA CHA
24.SWEET DISPOSITION (EDDIE THONEICK BOOTLEG)-THE TEMPER TRAP
25.GET LIFTED (INDIAN SUMMER)(THOMAS GOLD MIX)-BARBARA TUCKER
26.PERFECT TUNNING MASTER (ORIGINAL MIX)-X GROOVE POROJECT
27.CAN U HEAR ME (ORIGINAL MIX)-ALTAR FEAT. AMANNDA
DOWNLOAD:
Final Destination (Part I) [Set Oct-Nov '09]
http://www.mediafire.com/?c2qwejgemdg
Final Destination (Part II) [Set Oct-Nov '09]
http://www.mediafire.com/?nx4lyzqgtjw
Gracias M.I.G. por compartir con Southside y los readers !!