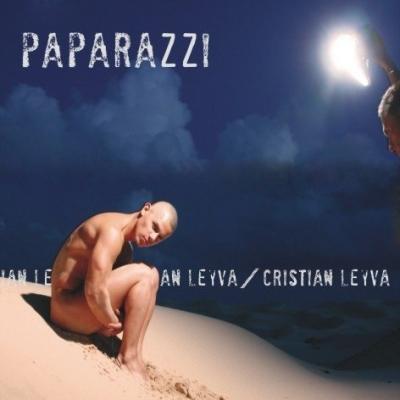 Una vez mas, Cristian Leyva comparte con South este set lleno de 'harto' beat bonito !!
Tracklist:
01: Lady Gaga / PAPARAZZI (Deejay Angel Vs Alex Dubbing, Cristian Leyva Piano Vocal Edit)
02: Filipe Guerra ft. Miss Laura / LISTEN TO YOUR HEART (Original Extended)
03: Kylie Monogue / IN MY ARMS (Breno Barreto Remix)
04: Robyn / WITH EVERY HEARTBEAT (Breno Barreto & Ander Standing Mix)
05: Black Eyed Peas / I GOTTA FEELING (Filipe Guerra Private Mix)
06: Leo Granieri / STRANGE LOVE (Tommy Love Circuit Mix)
07: Slumdogz / JAI HO (Dave Ramone & Chris Montana Mix)
08: Luis Alvarado / I LOVE (José Spinning S Ursus Planet Mix)
09: Tommy Love / I'M SUPERSTAR (Original Mix)
10: Celada / GOOD TIME (William Umana Mighty Dub Mix)
11: Madonna / GET TOGETHER (Ander Standing Hard Dub)
12: Tommy Love / CONFUSION (Original Mix)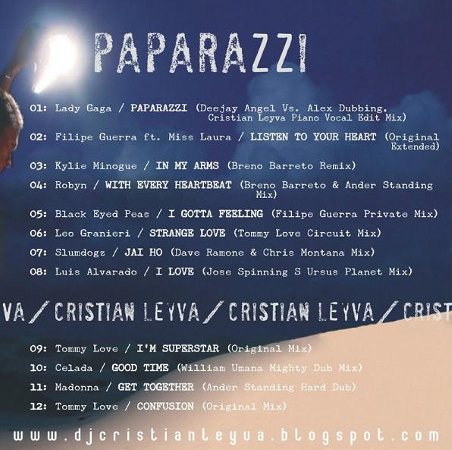 DOWNLOAD:
http://www.4shared.com/file/144539085/614d44d4/CRISTIAN_LEYVA_-_PAPARAZZI__set_mix_.html
http://www.mediafire.com/download.php?kwz112zdyga
Vistita: http://www.djcristianleyva.blogspot.com/ Gracias Cris!!